Pay A Little Now For SALT-X ... or ...
Pay A Repair Shop A Lot Later... The Choice Is YOURS!

Any car can benefit from SALT-X but specialized cars represent a Large investment In both dollars & work hours! Racing these lean speed machines on the salt flats requires The ultimate in protection from salt & corrosion.
Washing & rinsing salt away from these vehicles ensures the longevity & safety of these racing machines. Brake systems on these vehicles are vulnerable to the harsh effects of salt & therefor require the ultimate protection with SALT-X. Listed below is one of these unique racing machines. Send us a picture of your racing machine & we will gladly post it on this site.
Haller Motor Sports
David Haller is the owner & driver of this C/Gas Altered Machine. The Car is powered by a 370 cubic inch naturally aspirated Chevy small block with a manual four speed and a 9 inch rear end. David is after the record set last year at 238 mph at Bonneville. For more info contact David at dhaller@techline.com.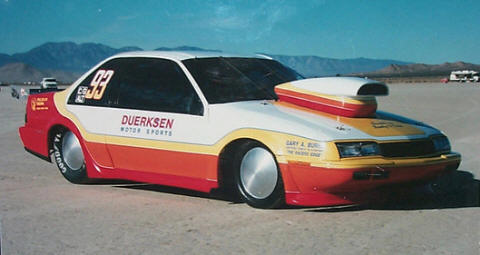 It's always a pleasure to hear from David! David is one of our customers who is into exreme sports and plays right on the edge. If you ever wondered why the car you drive is so safe and reliable, thank Dave and his crew who push the safety, stability, and technology window for better built future cars!
The New Haller Motor Sports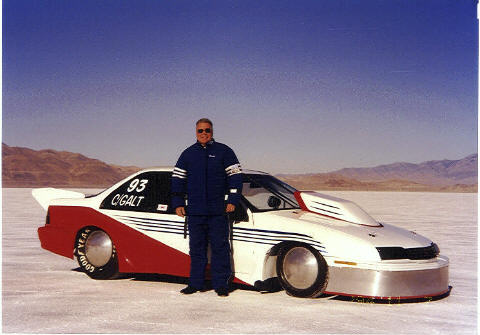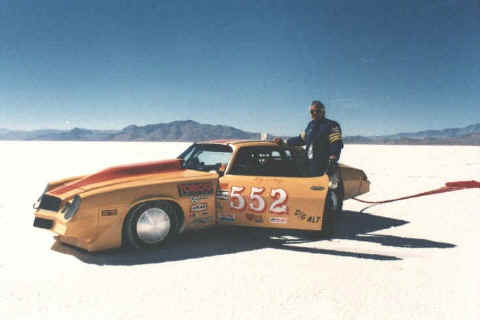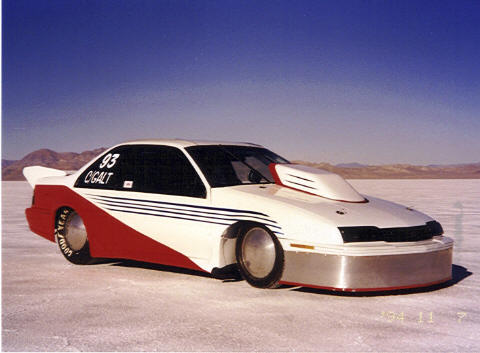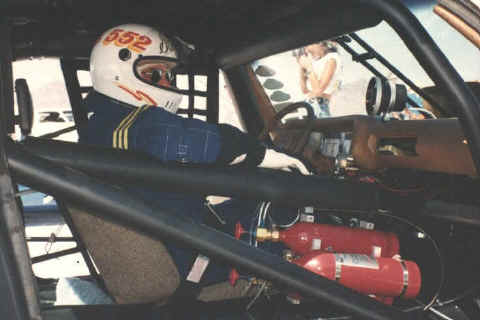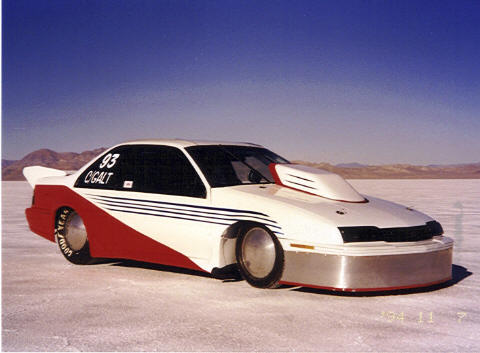 Dave Haller here, #93 C/GAlt Bonneville Salt Flat racer. I attended the World Finals at Bonneville in October. I had sprayed the undercarriage of my race car with the recommended salt x solution in the hopes of sidetracking some of the salt damage experienced by all of us down there. I went through a series of licensing runs since this is a new car for me and was very pleased with it's handling and acceleration. The first day I went 151 then 178 getting my B license which is good for speeds between 175mph and 200mph. The following day I made several passes running 184, 198 and 196. I was trying very hard to go over 200 but the air was changing and I was chasing jetting. The following day I slowed from 194 to 179 then figured out the jetting and went my fastest for that meet of 201.740 which got me my long sought after A license allowing me to run between 200 and 250mph. It was a good time of speed and friendship, the weather was perfect, the salt slippery between the one and three mile markers which moved me around a bit. That was fun and the car corrected with no problem. After arriving home and two weeks later the clean up started. Your product worked well. We removed the salt and it appears there is no rusting where I applied the SALT-X. I will continue to us your product to protect this extreme speed machine and feel free to use this along with the pictures I'm sending to promote your product. Thanks again, have a great holiday,
Dave Haller #93 C/Galt
Gary & Bonnie LaRonge #552 D/G Altered
"Our car is a 1978 Camaro with a gasoline fuel injected 302 C.I. Chevrolet
engine and a five speed transmission.
We haven't been able to run for the last two years due to rain outs of the September World of Speed Bonneville Salt Flats events that we attend. Prior to that time were were running in the mid 190's.
Our hopes are high for the year 2000. We will once again make the 1800 mile trip in hopes of getting the car out of the trailer and onto the salt.
We Salt-X the race car, tow truck and car trailer before we leave and after we return. So far the results have been good and it is our intention to continue using the product".
Gary & Bonnie LaRonge
#552 D/G Altered
WARNING!!! WARNING!!! WARNING!!! WARNING!!!
Don't be fooled by copycat products on the market!!! We have received numerous calls from people complaining about damage done to their equipment by products that appear to be SALT-X!!! Don't be fooled by these imitations!!! INSIST ON:
SALT-X!!!!! SAFE!!!!! EFFECTIVE!!!!! ECONOMICAL!!!!! SALT-X!!!!!